Herbs Research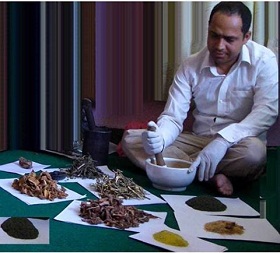 Herb and Life:
In our research, we have seen the potential of our forest resources not only in trees, fodders, woods etc. but there are enduring benefits from our forest products like life-saving plants, herbs and wild food supplements for near future for the mankind's as an only alternate solution. It is the greatest obligation for the nation to take this opportunity to build a milestone in this 21st centaury with this great resolution for the mankind's and nature too. That's why it is necessary for us to think in time and do as and what we can for our motherland in time to show the world for our importance for this endangered nature. There are enormous opportunities for the prosperity of the nation and the existence whole mankind. Only our loyalty, labour and dedication are needed for our healthy and prosperous future generation because there are still more hopes to save the nature. Thus, we need to grab these opportunities at its earliest.
Now-a-days, the modern world starts understanding the value of nature and its super natural power. The better the nature, the better will be its components and the living beings. We cannot win the nature but can be able to save it for our being and existence in the earth. In fact, some experts and researchers from modern world eager to look at eastern culture and begin to research tradition of well being. They intend to admire the idea & techniques of well being. Their research and studies are moving towards it for the fact findings. Why do not we ourselves prove it that we are in right track. We pursue the nature and nature cares us.
We must admire such a nature friendly and innovative techniques of herbal treatment in our tradition by our ancestor who made number of such life-saving plants to plant nearby as ritual and trust with religious respect. We must explore and make new ritual on such more life-saving plants for our future generation because most of such species are in endangered situation. Our courtyard, garden and forest would be full of such vegetation and we would be safeguarded.
Nature heals its anomaly naturally. We must appreciate it. So, we have to save the environment by not disturbing the bio-diversity of every ecosystem far around too.
Related With
Contact Us
Nepal Cancer Cure & Herbs
Research Pvt.Ltd
Dillibazar Pipalbot, Kathmandu, Nepal
Contcat No:-
+977-1-4537166
Mobile No:- 9841522174, 9808793322

Website:- www.cancercareresearch.com
Email:- info@cancercareresearch.com
nepalcancercure@gmail.com